EGINA GOLD CAMP – BECHER PROJECT
The Becher Project is located in the northern sector of the Egina Gold Camp in Novo's 100% owned E47/3673 exploration tenement (subject to De Grey's earn-in) and covers a priority area of approximately 20 sq km. The area is characterised by shallow cover overlaying the highly prospective and under-explored Mallina Basin.
 
De Grey's (ASX:DEG) 11.7 Moz Au (JORC 2012) Mallina Gold Project tenure lies adjacent to the Novo main Becher tenement, with the latter located only ~ 28 km WSW of De Grey's principal Hemi Project.
Figure 1 – Egina Gold Camp tenure showing the Becher and Nunyerry North Projects and the new Egina JV area.
Overview
Reconnaissance work at Becher highlighted the three high-priority prospects of Heckmair, Irvine and Whillans, which required immediate follow-up drilling and further exploration work.
Novo commenced AC drilling in September 2022 testing a series of interpreted structural corridors and intrusion related targets. Drilling at Becher was completed by Novo in June 2023 and in ten months, which included a 3 month break due to the Pilbara cyclone season, the Company drilled 2,540 holes for ~61,400 m.
The drill program identified 207 intercepts > 0.5 g*m Au, including 109 intercepts > 1 g*m Au, reported from the results received to date, a standout result for reconnaissance AC drilling.
The 2022 drill program proved to be extremely promising across several fronts:
Location and tenor of gold assay results from drill sampling provided confidence in the fertility of the interpreted regional structural corridors.
Multi-element analysis of bottom-of-hole AC drill samples revealed intrusion-related "sanukitoid" signatures, which are known hosts to gold mineralisation elsewhere in the district.
The distribution of pathfinder elements such as arsenic, antimony and tungsten (amongst others) defined vectors which have helped finesse understanding of the controls on gold mineralisation.
The cover is shallow (generally less than 10 m) and is less consequential than expected.
These findings had considerable influence in targeting and prioritising the 2023 drill programs. The significant gold and multielement assay results identified multiple targets including a large, priority area of anomalism across some 5 sq km at Becher across the Heckmair, Irvine and Whillans prospects.
Through the Egina JV, De Grey Mining will manage all further exploration programs at Becher. De Grey will commence ~39,000 m of aircore, reverse circulation and diamond drilling in September 2023.

Image 1: Drilling at the Heckmair Prospect in April 2023, showing the flat topography in open sand covered plains.
Novo has completed over 50,000 m of AC drilling to date at Becher generating significant gold and multi-element assay results to define a large priority area of mineralisation across some 5 sq km. The exciting results from this program have confirmed Novo's plans to extend the drilling program.
During the 2023 program 720 holes for a total of 20,000 m AC drilling have been completed mostly on 320 m spaced infill drill lines at Heckmair and some on closer spaced lines at Irvine. This recent drilling, focused on gold anomalies previously identified in the Irvine Shear corridor in proximity to the Heckmair intrusion, continues to identify broad intercepts across a significant strike length. New results showing high potential for mineralisation hosted both within the large Heckmair hornblende-diorite intrusion, along and in proximity to large cross-cutting and offset structures and at the margins of the intrusion where they are in contact with the Constantine Sandstone country rocks, all under shallow cover.
Both geological setting and pathfinder multielement assays compare favourably to the adjacent Mallina Gold Project mineralisation, with planning for deeper drilling underway.
Results announced in the 23rd May 2023 news release include significant intercepts (> 2 g*m in tenor) of:
3 m @ 5.23 g/t Au from 9 m in F1474
15 m @ 0.61 g/t Au from 0 mincluding 6 m @ 1.16 g/t Au from 0 m in F1711
3 m @ 2.93 g/t Au from 9 m in F1739
9 m @ 0.77 g/t Au from 6 m including 3 m @ 2.05 g/t Au from 6 m in F1631 and 4 m @ 0.4 g/t Au from 27 m including 3 m @ 0.49 g/t Au from 27 m in F1631
3 m @ 2.08 g/t Au from 12 m in F1427
18 m @ 0.24 g/t Au from 21 mincluding 6 m @ 0.39 g/t Au from 24 m in F1582
9 m @ 0.39 g/t Au from 51 m including 6 m @ 0.45 g/t Au from 51 m in F1597
12 m @ 0.28 g/t Au from 6 m including 6 m @ 0.42 g/t Au from 9 m in F1498
3 m @ 1.04 g/t Au from 18 m in F1469
1 m @ 1.57 g/t Au from 30 m in F1603
Two AC cross-sections examples are shown from the Heckmair intrusion Figure 4 and the Irvine Shear corridor Figure 5 below.
More recent drilling (to June-12-2023) continues to deliver significant intercepts (> 2 g*m in tenor), with key recent results including:
39 m @ 0.25 g/t Au from 81 m including 3 m @ 0.41 g/t Au from 108 m in F1843
18 m @ 0.38 g/t Au from 21 m including 9 m @ 0.56 g/t Au from 30 m also in F1843
12 m @ 0.43 g/t Au from 57 m including 6 m @ 0.66 g/t Au from 60 m also in F1843
30 m @ 0.2 g/t Au from 3 m including 3 m @ 0.38 g/t Au from 12 m in F1924
13 m @ 0.35 g/t Au from 36 m including 10 m @ 0.42 g/t Au from 39 m also in F1924
9m @ 0.39 g/t Au from 54m including 6 m @ 0.45 g/t Au from 54 m in F1838
6m @ 0.36 g/t Au from 48m including 3 m @ 0.6 g/t Au from 51 m in F1881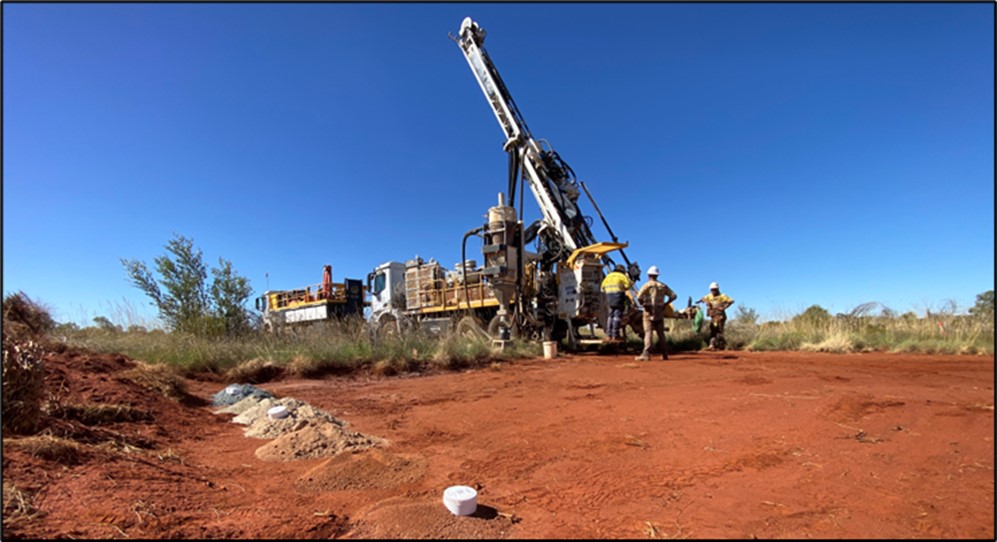 Image 2:
Drilling at the Heckmair Prospect in May 2023, with ChrysosTM PhotonAssay pots direct sampled in the field.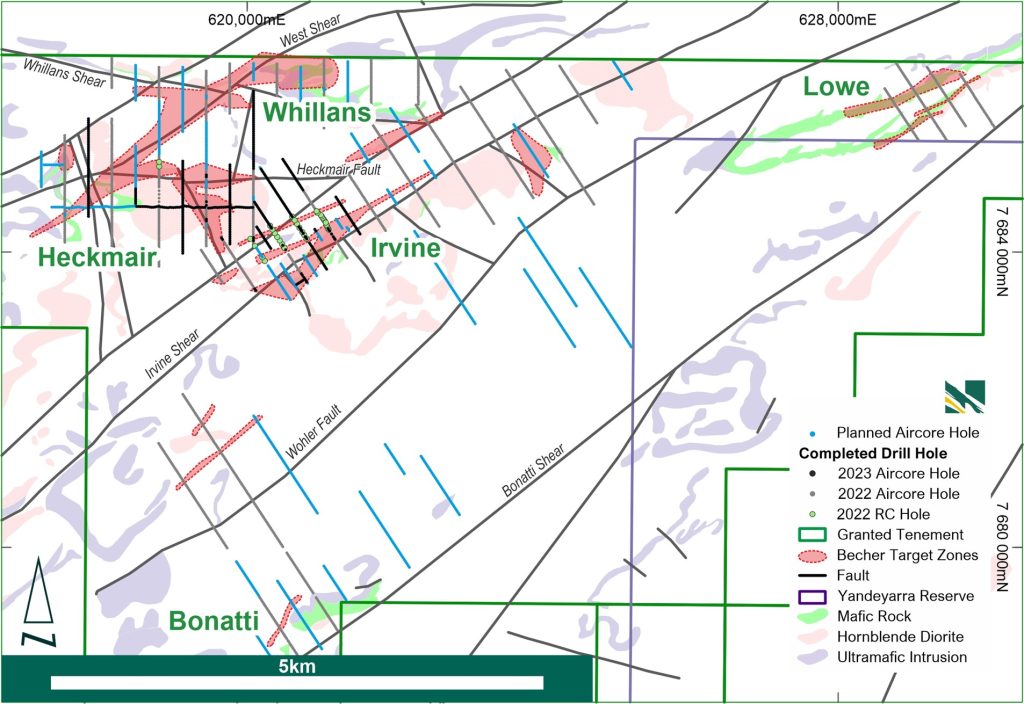 Figure 2 – Becher Project showing main prospects, target zones, AC drilling progress to date and planned AC drilling over interpreted geology.
A few people pics below showing various facets of logging and sampling on the AC rig.
[1] De Grey has reported that its Hemi deposit at the Mallina Gold Project is comprised of Measured Mineral Resources of 4.7 Mt @ 1.7 g/t Au for 265 koz Au, Indicated Mineral Resources of 184.1 Mt @ 1.3 g/t Au for 7,798 koz Au, and Inferred Mineral Resources of 89.2 Mt @ 1.3 g/t Au for 3,684 koz Au, as those categories are defined in the JORC Code (as defined in National Instrument 43-101 Standards of Disclosure for Mineral Projects). Refer to De Grey's public disclosure record for further details. No assurance can be given that a similar or any mineral resource estimate will be determined at Novo's Becher Project.